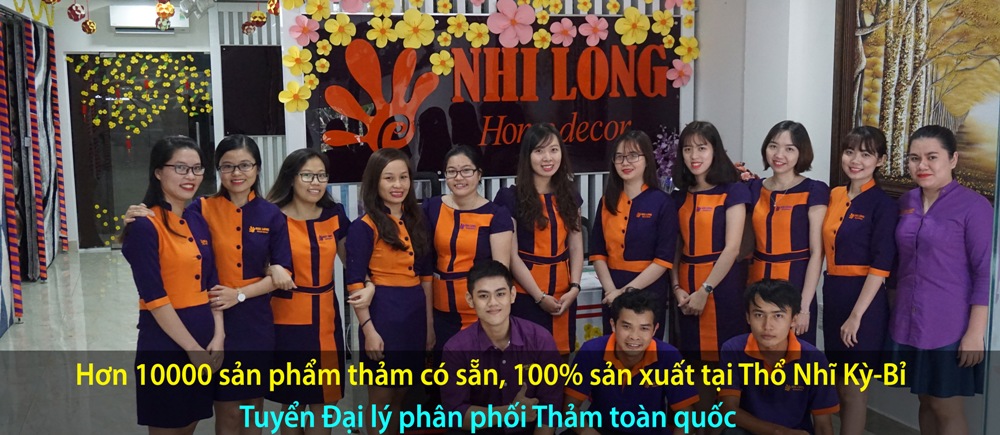 Nhi Long – Number one rugs and carpets provider in Vietnam
Carpet has been used in interior decoration for thousand of years and they are becoming more popular nowadays when people have higher standard of living. Carpet does not only play the role of decoration items but also several benefits like: separate the spaces inside the house, reduce noise, protect the floor
Some people might think whether or not to cover their new beautiful tile or laminate floor with rug but they won't have that idea anymore after having a closer look below
Rug for decoration purpose
The most important reason to use the rugs is for its aesthetic aspect. Since you will have many items inside the room with different colors, rugs will play the role of a glue to tie all elements in the space to create "whole" feelings
Bu the benefits of using a rug is far beyond decoration purpose, let's have a look at a few points below:
Noise Reduction
Every house will have some activities going on like people walking on it, people talking on some rooms, door opening sound … all these noises will echo and add up to make the space not as quiet as it should be. With an area rug in each area, the noise will be cancelled internally at each location to keep your house quieter. You can check by using a rug and then remove it to see the difference
Comfort
There is indisputable fact that everyone prefer to walk on the soft and warm carpet rather than on cold and hard surface of tile or hardwood floor so carpets certainly bring conform to your feet and your feelings. When you walk on the floor, the softness of the rugs can absorb your force that you put on the floor hence reduce the tension that your body joints have to endure
Warmth
In addition to the comfort, carpet also bring warmth to your feet especially in winter. Let's imagine yourself wake up in the morning and the first thing that you'll be in contact is a warm, soft carpet or the cold, hard tile to see how comfortable it is to start your day
Grounding Aspect
If you used to have a rug in your house, you can never have a house without area rugs anymore. Without the rug, all your furniture looks like they are floating in the space and each items lay separately. The rug is used as a connecting element to link everything together to create a consistent aesthetic view
Floor protection layer
There are always some places inside the house that there will more traffic than the rest like the hall way, some places that people will cause more damage for the floor like under the dining table where people tend to move the chair whenever they need to eat … those places will be tore and wore out a lot sooner that the rest of the floor. It's not easy and cheap to replace these old parts without messing the whole floor so using area rugs at these points are very crucial to protect the value of your house since how cheap and easy it is to replace a rugs in the future
Protection layer
How many accidents have happened with he old people or your children in the house so far with a wet floor after you just finish cleaning up? With an area rug, even when people do fall, it will help a lot
There are so many other benefits of using the rugs so if you want to choose one for yourself, please click here to pick one for your house
Why Nhi Long?
We always have more than 10,000 pcs available in stock with different styles and sizes. All carpets that you see on our website are available to deliver right away
We are the direct importer from Turkish and Belgium factory with guarantee quality and we offer 1 year guarantee with any factory defects
You can exchange and return if you are not happy with our rugs within 3 days since the day we deliver
We have videos, pictures for each product clearly enough that you only need to look at the websites and you know exactly what the products will look like in reality to order online